The Undergraduate Experience at CERE
By Courtney McNair
"Glass slipper" of majors
As a rising senior, I have learned that part of the college experience is changing your major… maybe once, maybe twice. Finding the right fit for me was stressful. I changed my major from radiology to public health. Even after this transition, I was still trying to find my place, my future career paths and the plans that lay ahead of me. I knew one thing for sure… I was fully confident in my decision to explore the public health sector. I found myself excited to go to class, telling my family and friends about what I have learned. I became interested in statistics and history through learning about how decisions in public health organizations are made.
As a Mississippi native, my worldview on different cultures, languages, and experiences were limited. The south, especially Mississippi, is not known for diversity. Public health gave me the opportunity to learn about different ethnicities and cultures and one day find avenues to promote health and wellness in their communities around the world. Through public health I have learned how different religions and cultures can affect a person's health and wellbeing.
"Wanting to do good is not enough."
One day in my public health 319 course, a guest speaker came in and spoke to us about her life in Australia. She elaborated on her academic studies, internships, professional experiences, and research/evaluation work in her lifetime. Hearing about her work in other countries—collecting and analyzing data, connecting with people and information sharing—caught my attention. She went on to discuss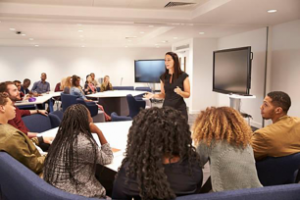 how "wanting to do good" is not enough and how the main goal of working for the public is making sure one is not doing more harm than good. Serving the public comes with the responsibility that the research that takes place must help communities. This speaker was the director of the Center for Research Evaluation (CERE).
I kept trying to find the courage to approach her for a chat and find the right words to say. I emailed her afterwards and asked for more advice, tips, and potential internships I can apply for.
That's when I got invited to a Lunch and Learn session at the CERE office.
Lunch meeting became wisdom (Lunch and Learn)
When I first arrived at the Lunch and Learn, I was greeted by the nicest people I have met in Oxford, nothing but smiling and welcoming faces. Everyone wanted to get to know me and took pride in discussing their work. Once the meeting started, I immediately was flooded with information on what CERE does, their research foci and funding sources, the protocols and assessments used, and career opportunities in the field of evaluation. I also got the chance to meet the graduate students currently working at CERE and hear their goals. As I kept going to more Lunch and Learn sessions, I met more and more CERE team members. The more L&L session invites I received, the more excited I was to go back to the center.
Getting my foot in the door
When I was offered a job at CERE as a student worker, I was so happy. The structure of my position is similar to an internship because my work is focused on me learning new skills and more about evaluation. Every day that I work I feel as if I'm giving back and doing my part.
All in this together
I am truly grateful for the lessons I have learned at CERE. The skills, tips, and advice I have received will benefit me in school and future work. I am learning about qualitative and quantitative evaluation and about processes like IRB. I feel much more confident that I chose the right major for me. When I first showed interest in CERE I came thinking "I will be lucky if I leave knowing what evaluations are," but now I feel blessed that a center like this exists and is continuing to teach me more actionable strategies to solidify my goals related to research and evaluation. The fact that a group of hard-working people with different backgrounds are so willing to share their wisdom and expertise with me solely because I showed interest means the world to me. I am forever grateful.
It gives a sense of oneness that—hey, we are all in this together and share a goal of bettering the public's health and education in research and evaluation.
Today I am no longer afraid of my career journey. I take pride in the work I do for CERE and stand here today happy to be working the best job I have ever had. I would not have any of this if it was not for the educators at CERE seeing my potential and having faith in me. When I think about how much this has changed my life for the better, I get teary eyed. I cannot wait for future work with the CERE team.