One Year at CERE: A Leap of Faith
By Jonathan Cox
When I was about fourteen years old, I went to the public library to check out a book: Gleim CPA Exam Preparation. To my parents, this wasn't much of a shock as I'd been creating fictional P&L statements for fake companies since I was 10. To everyone around me, becoming an accountant was one of those things that people expected from me. Fast forward nearly ten years and I find myself graduated from Ole Miss with a Bachelor's in Accounting, beginning my CPA exams and starting my master's degree in accounting. One could say everything was working out according to plan, or at least I thought so.
The importance of value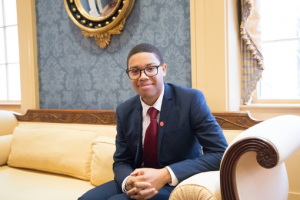 The summer before I started my master's degree, I realized there was something missing from my career plan: value. I didn't see much personal value in becoming an accountant. I knew I could help corporations and individuals, but not like I thought I should. I wanted the work I did to mean something; I wanted to see more value in the work I was doing. I began looking for graduate assistant positions that might give me the opportunity to greater explore this ideal and see if it really was a possibility to have a career full of meaning. I started searching through our school's website but kept coming up short. Just when hope seemed lost, I received an email on July 1st.  "Graduate Assistantship Opportunity" was the subject line.
The worst they can say is no
As I read the email, I became a little hesitant to apply. The requirements specified someone with "some working knowledge of statistics and research methodology." I'd taken a couple of statistics courses and learned about the scientific method, but I'd never actually employed research methodologies beyond literature reviews, research papers and rudimentary science projects during freshman year. I mentioned the position to my mom and in true mom fashion, she encouraged me to apply and told me "the worst they can say is 'no'". With that cliché, motherly axiom in my back pocket, I emailed my resume to the Center for Research Evaluation ("CERE") with a message communicating my interest in becoming a member of the team.
Words could not describe the sheer excitement (and complete and total shock) at the notice that I had been selected for a phone interview. I mean, my mouth dropped to the floor almost. On the day of the interview, I put on a suit (I didn't know if it was going to be a video interview, so I wanted to be prepared just in case) and sat at the phone eager for it to ring. At the conclusion of the interview, they told me they'd get back to me soon. On July 16th, CERE emailed with a request for an in-person interview. I fainted, then happily accepted.
The interview…
On the day of the in-person interview, I could feel my heart beating out of my chest. I'd done interviews before (even given a few), but this one felt different. After entering in the wrong side of the building, I finally found the CERE office. Well, to be exact, they found me confusedly wandering and escorted me to the office. The rest is sort of a blur.
An offer!
On July 26th, I received news almost as good as winning the lottery. I had been offered the position. I think I called just about everyone in my contacts to tell them the good news. I had always planned on making the most of my final year of school and gaining much needed experience. What I didn't plan on was finding a position that would change the course of my life.
Friendly faces
A few days before my first day, the other graduate assistant reached out to me. To my surprise it was Rachael. I'd met Rachael my freshman year of undergrad, so needless to say, I've known her for quite some time. It was nice to have someone I knew going into this completely new chapter of my life.
My first day was August 27th. I walked in with Rachael and we were met by Joey, who quite literally could be the kindest human on Earth. As we entered the office, greeted the rest of the team and were led to the team room where a gluten-free, chocolate cake was present and waiting for us. We exchanged pleasantries, confirmed schedules and received our preliminary tasks to start working. I expected the work to be challenging, fulfilling and purposeful, but I didn't expect what came next.
New beginnings
As the days turned to weeks and the weeks to months, I realized I had found something far greater than what I was expecting: I found work of great value. Before every new task, the team would explain the importance of what we were doing. And that alone was enough to motivate anyone to work as hard as possible. Each new task came with its own challenges and opportunities for growth. Each new task was worth the extra hours and focused attention. Each new task helped someone in need. The work became a mission.
A life with value
Around late February 2020, I couldn't take it anymore. No, not working at CERE, the feeling of potentially doing work without the kind of value I found at CERE. I talked to some of the team about it and they were thrilled and excited to help me find a career path where I could continue this sort of work. After weeks of researching, I reached out to my future employer and told them of my desire, and they assured me they would be able to accommodate my desire to have work with value.
Being part of a team
Now it's May, and as I sit and think about how fast this school year has gone by and all of the lessons I've learned, my heart is filled with gratitude. I had absolutely no idea what Program Evaluation was before CERE, I had no idea how much I loved working with nonprofits, and I had no idea that I would find a career full of work of value. The work is about using science to help organizations find solutions that benefit people in an impactful and meaningful way.  It's about asking questions and listening, truly listening, to give useful answers. Of course, I would have learned none of this without the CERE team.
Sarah, who always sees the potential in all us and the work we can do. Joey, who is the heartbeat of the team and keeps us all moving forward. Hope, who, like her name, gives you hope for better days and brings a smile to your face as she lights up a room. Shannon, who keeps the team laughing. Moira, whose intellect pushes us all to think deeper. Matthew, who is by far the coolest person I've met on planet Earth. And Rachael, who without her, I would not have been able to live up to the challenges that I faced. These people taught me what it feels like to be a part of a team. Everyone operating in harmony to produce the most mellifluous work. Everyone being a vital part of the organization.
If you told me a year ago that my life would be changed in a matter of months, I probably would have laughed. I could not have wished for a better experience. I've been able to help various organizations make an impact on lives across the country. I have learned more about research and statistics. I have gained experience working first-hand with clients. I've helped develop surveys, conducted interviews, written literature reviews and helped manage projects. All within a year. A year that taught me what valuable work looks and feels like. A year that taught me what it means to be a vital part of a team. A year that taught me to take a leap of faith, because when you do, you'll learn the true extent of your potential and aid others along the way. For this, I am thankful for the opportunity to spend one year at CERE.